New, NOS, and Reproduction Parts
The H.H. Franklin Club provides 'For Sale' listings as a service to its members and others.
The H. H. Franklin Club publishes the information listed below solely as a convenience to its members. No endorsement is made by the Club or Region, no claim or warranty is made as to the accuracy of any of this information. No responsibility is assumed for any transactions resulting from this information.
REPRODUCED PARTS for a 1929, series 13, 135 sedan.
THROTTLE: Lost wax casting in bronze from original zinc die cast part. Finished and nickel plated; ready to drop in. Excellent fit. $180.00 Plus $10.00 for packing, postage, and insurance.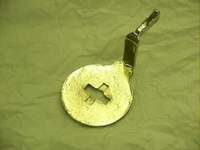 GRILL CAP: Lost wax casting in bronze from original zinc die cast part. Finished and chrome plated over nickel plating. Note it is the one with the Herringbone decoration around the perimeter and measures 3 1/2" in diameter. Shrinkage is less than 1/16" diameter from the original pot metal piece. Some very, very small pits hardly seen at arms length. Special attention to herringbone detail so to duplicate original as accurately as possible. On underside one can see the original factory number in the fine detail and the stud has been drilled and tapped to 5/16th x 18, square and straight to the piece. $400.00 Plus $10.00 for packing, postage, and insurance.
These prices reflect cost only and no profit is realized. Plaster molds, rubber molds, casting, finishing to auto quality plating adds up fast, but I was very pleased with the results. These parts will be at the 2008 Trek
James Roberts, email at, lrclock11@yahoo.com or call at 978-658-4339 voice mail there 1/08.
---
Front window frames for Franklins from 1925 to 1934 - They manufacture the correct channels for front frame as well as the frames for the convertible coupes. The company is: N/C Industries Antique Auto Parts, P.O. Box 254, 301 S. Thomas Ave., Sayre, PA 18840 - Talk with Kevin Brown Phone 570.888.6216.
---
Resilvering of head light and tail light reflectors. They also have cork gaskets and light bulbs for most head/tail lights. Steve's Auto Restorations, Inc., 4440 S.E. 174th, Portland, Oregon 97236 Phone 503.665.2222
---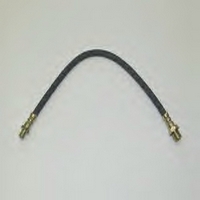 Brake Hoses
The same hoses fit most Chrysler cars of the later 20's and early 30's. The cost is $19.50 (as of 1999).
Gary Roberts, Jr.
Roberts Motor Parts, Inc.
17 Prospect Street
West Newbury, MA 01985
978-363-5407 or 800-231-3180
www.robertsmotorparts.com
---
Vacuum Tank Gaskets February 3, 2009
You can purchase vacuum tank gaskets at:
Restoration Supply Company
15182-B Highland Valley Rd.
Escondido, CA 92025
Order Desk (800) 306-7008
Other Inquiries (760) 741-4014
Fax (760) 739-8843
info@restorationstuff.com

---
Brake Parts 1930 - 1934 August 4, 2008
Information on the Franklin brake system from Allan Franklin who researched for his 1931 Franklin Automobile, Series 152. Parts should be the same for the brakes on the following:
1930 Series 145
1930 Series 147
1932 Series 151
1931 Series 152
1931 Series 153
1932 Series 163
1932 Series 164
1933 Series 193
1934 Series 194
3 each Brake Hoses 28-30 # T52A (male threads) 3 @ $19.50 ea. = $ 58.50
Source: Roberts Motor Parts (800) 231-31870, contact Gary (Shipping $10.00)
1 each Master Cylinder Rebuilt Kit #UP-1, $14.80
Source: NAPA
2 each 1 3/8" Front Wheel Cylinders # WC-1430, 2 @ $78.69 ea. = $157.37
2 each 1 1/4" Rear Wheel Cylinders # WC-695, 2 @ $52.79 ea. = $105.58
Stock front wheel cylinders use 1 1/4" but 1 3/8" larger ones can be used by filling out the two mounting holes.
4 each Bleeder Screws # F-11410, 4 @ $1.33 ea. = $6.75
3 each Master Cylinders Washers # F-17 (pack of 10) $3.80
4 each Banjo Bolt Copper Washers # F-602 (pack of 10) $4.60
4 each Copper Washers # F-603 (pack of 10) $4.60
Notes: Use Loctight on Master Cylinder washers.
Source: Rock Auto (866) 762-5288, contact Jeff
Stoplight Switch: Echlin # SL-113
See Harley Davidson dealer? Echlin 113 is available from NAPA
Bleed brakes, starting furthest from the master cylinder in this order: left rear, right rear, right front, left front. After cleaning out the brake lines blow air and brake cleaner thru the lines. I elected to use Dot 5 Brake Fluid.
---
Vacuum Tank
From Chuck MacDonald: Wallace Desck has repaired my vacuum tank, tested it and is shipping it back. Approx $100.00. He did state that the top may have to be replaced but he would give me credit for it. He said there is a company in Australia that makes them. I'll let you know how it work once I install it. Approximately $19.00 and 4 days to ship the tank to Florida by UPS Ground.
Wallace Deck
PO Box 380
Ridge Farm, IL 61870
217-247-2162
Address in Florida is:
2041 Thompson Nursery Road, Lot 40
Lake Wales, FL 33859
217-260-0300
---
Oil Filter
New manufacture oil filter from Roberts Motor Parts, part number T45. While they are not the long canister type that was used originally, these are the same 4-1/8 inch outside diameter as fits the original oil filter brackets, with 1/8 national pipe thread on each end marked "in" and "out". 5-7/8 inch long overall. Some black paint and a repro Purolater decal from the California Classic Car Club guys and it's close. For those who don't know, they are the same people we get the brake hoses from (for 28-34 Franklins use number T52A, see below for picture of the hose).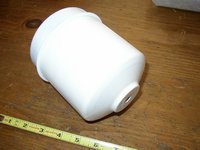 Roberts Motor Parts
17 Prospect St.
West Newbury, MA 01985
978-363-5407
www.robertsmotorparts.com
---
Fuel pumps and rebuild kits
Fuel pumps and rebuild kits available at:

Antique Auto Parts Cellar
http://www.then-now.com/The_Cellar/cellar.htm
---
Brake Line
As has been said many times in the past and bears repeating here... "refrigeration copper tubing" should NOT be used in brake systems. It is NOT meant to take the working pressures of even an old low pressure brake system like Franklins have. Refrigeration copper tubing is TOO SOFT for that application. The burst strength of soft copper is too close to the maximum working pressures that a Franklin brake system can generate. This tubing I am listing is about 8 times stronger than the same sized tubing in soft copper. It matches the original copper used on Franklin hydraulic brake systems in that it is designed, tested and rated for use in modern brake systems. Well above what a Franklin brake system has to deal with and like originally intended by Franklin, has the added benefit of no worries about corrosion.
This material is very nice to work with and with a simple flaring tool, is easy to duplicate the single flair connections that Franklin used. It is also easy to form to fit into the chassis.
There are two companies that sell the tubing:
Automec Equipment and Parts Limited
36 Ballmoor
Buckingham Industrial Park,
Buckingham, MK18 1RQ
England
Phone: 01280 822818 or 823117
Fax: 01280 823140
Email: info@automec.co.uk
www.automec.co.uk

The Automec people are very nice to deal with. E-mailed questions were answered very promptly. Fast, courteous service. They also carry all the tools necessary for forming and installing tubing for just about any type of application, all of which can be seen on their website listed above.
The tubing comes in 25 foot rolls. All years of Franklins will use almost all of a 25 foot roll of 1/4 inch tubing. Order number for the 1/4 inch od tubing is, HCP014. The 5/16 inch od tubing that is needed for the cross over line from the master cylinder to the tee fitting on the passenger side of the chassis, and the reservoir line on '30 and later cars is, HCP516. Only three feet of the 5/16 is needed for '28 and '29. 1930 and later cars need two, three foot pieces (6 feet total) of the 5/16. One for the cross over line and one to the brake fluid reservoir can on the firewall.
Update: November 18, 2010
This tubing along with a wide assortment of fittings is now available in the USA at:
Federal Hill Trading Company
195 Federal Hill Road
Oxford, MA 01540-1303
Tel: 508-987-2660
They do not have a store front and deal mainly by phone or Internet. They have a very good web site that list all the products they carry as well as answers to technical information. Federal Hill carries partial rolls of tubing so you do not have to buy a 25' roll if you do not need it.
---
Runningboard Mouldings
L & L Auto Trim has runningboard moldings for 1927, 28, 29, 30, 31, 32 and 1933 Franklins. Plus some earlier moldings. Call or write your needs.
L&L Antique Auto Trim
Gerald Landoll
403 Spruce
P.O. Box 177
Pierce City, MO 65723
417-476-2871

---
Spark Plugs
The 1928 12A has a 7/8" thread and uses a Champion W18 spark plug. The numbers recently changed and I think the new number is 518, but you should ask for the W18 first. Franklin switched to an 18mm threaded plug for the 12B. This uses a champion D16, or current number is 516. I have seen a couple 12-As with Series 130 cylinders, so make certain yours has the original large plug in it. Most good-sized auto parts stores stock the plugs. If they don't have them in stock, they can surely order them.
---
Series 14 Distributors
Series 14 and Chev Distributors AT THE "BIG A" CHAIN OF PARTS HOUSE, WHICH SELL STANDARD MOTOR PRODUCTS. CONDENSER = 32 - 821, ROTOR = 34 - 13, POINTS = 31 - 30, CAP = 33 - 22. Don't worry about the different Chev. distributor model numbers - they all use the same points, condenser, cap and rotor and will fit your Series 14. Just tell your parts house you want the parts for a '57 Chev, and you'll get the right stuff.
---
Data Plates
Bill Williams makes data plates and has made some for Franklin. I've only purchased the new crankhole covers from him (which double as V/12 valve cover medallions). Also has Delco starter & generator tags.
Bill Williams
603-525-3532

---
Plates
So. Cal region of the CCCA has lots of plates as well, including pre 1912 Franklin plates, but none later. Also has Delco starter & generator tags.
So. Cal Region of the CCCA
P.O. Box 3742
Orange, CA 92857
send SASE
---
Air Filters
Having recently had the top end of my engine rebuilt, it was pointed out to me that I needed to get a "real" air filter to protect the rings. My research into a filter that would fit for "drivers" of their cars identified a K&N manufactured filter that will fit the neck of the U-3 Stromberg carburetor on cross-draft engines. The filters were developed for off-road racing and are well known in street rod circles. It is expensive (relatively) but is a permanent type that can be washed out and reused. The manufacturer's number is RU - 3560 and it is sold in NAPA parts stores.
---
Stoplight switch replacement for 1932 Airman
Stoplight switch replacement on my '32 Airman that works is NAPA ECHLIN SL113. Replacement needed because old one left stoplights on all the time. Magic word to NAPA counterman was "Chrysler" although "Franklin" was used.
---
Gear Oil
New Holland Industrial Equipment sells an EP Gear Grease part #9821006 that is equal to the 600 W Gear oil used in most older cars and trucks. The best way is to get on the internet and type in New Holland Industrial Equipment then click on Search. This will bring up their web page and tell you of a dealer nearest you.
---
Wiring
Another supplier of reproduction parts for Franklins, they reproduce many of the wiring harnesses and carry additional wiring supplies used in Franklins. They also have the measurements to add the accessory right tail light to the harness for 1930 and 1931.
Rhode Island Wiring
567 Liberty Lane
P.O. Box 434
West Kingston, RI 02892
800-241-1955
info@riwire.com
http://www.riwire.com
---
Wood Steering Wheels
All wood steering wheels manufactured by Snyder's Woodcraft -- he is a Franklin Club member. If you did not see them at the Trek ask someone that was there, they were beautiful.
Snyder's Woodcraft
618 South Spruce St.
Nazareth, PA 18064
Home: 610-759-4642
Work: 610-759-4276
---
Ignition Parts
I have a large stock of NOS ignition parts that fit not only Franklin but most makes and models from 1910 to 1960.
Tom VanMeeteren. Email at tsvanmeet@gmail.com