News of the Club
Student Experience Program Challenge
Congratulations!!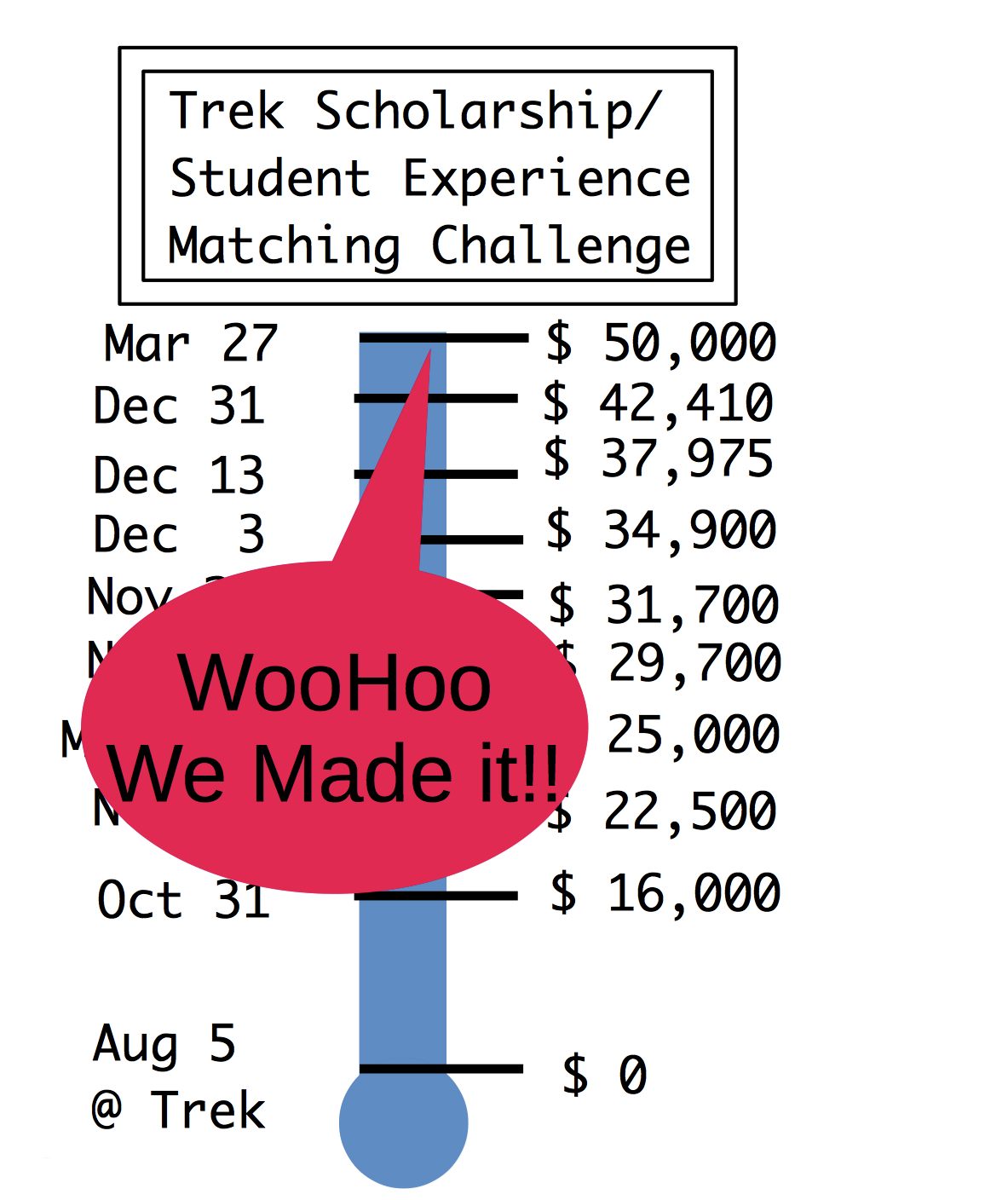 The Club received a matching grant from an anonymous donor towards the Club's suite of Student Scholarship programs. The donor's match would go as high as $50,000 if the club could garner that many donations. As of March 27, we have met the challenge and have raised $100,000 for these programs.  This will allow us to significantly increase engagement with young students.
Click here for more information on the Student Experience program.


Member Update
May 9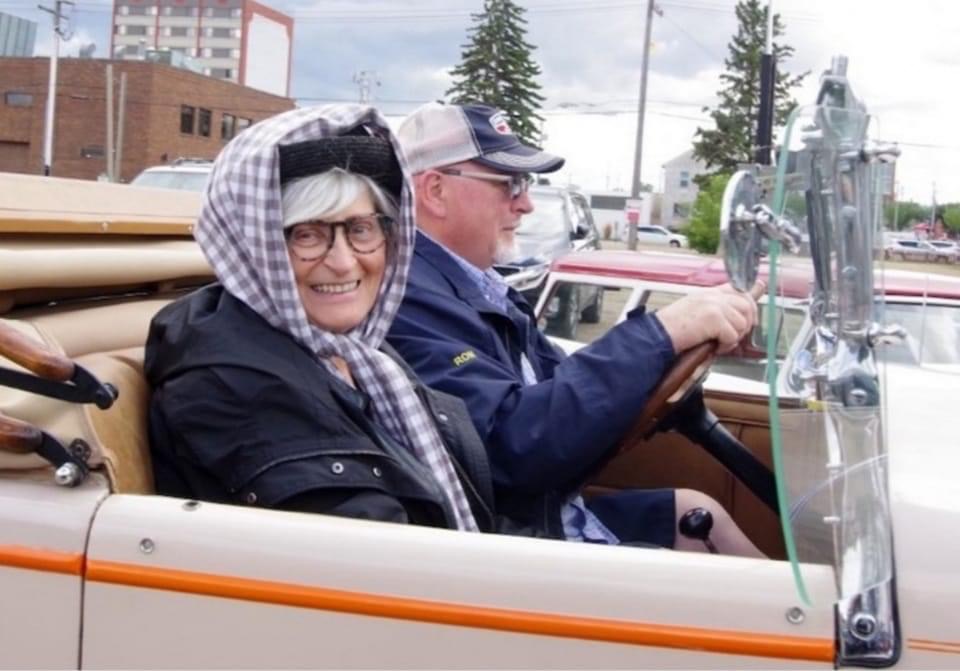 Danin Bodnar passed away after a courageous battle with ovarian cancer that was first diagnosed in June 2015. As she passed, Danin was surrounded by her loving husband, children, and grandchildren. She is survived by her husband Ron, son Conrad, daughter Jennifer, and grandchildren Ben, Nick, Zosia, and Zus.

She met her future husband, Ron, at a country dance in October of 1962. They married in 1966 and resided in Edmonton where they raised their family. She was grateful to have spent much time with her grandchildren who loved her dearly. Danin was a devoted wife, mother, and grandmother. Her family was her priority.

Danin was born in Myrnam, Alberta, the oldest of nine children. She graduated from Myrnam high school and continued her education at the Edmonton General Hospital School of Nursing (RN), and then at the University of Alberta, where she achieved both a BScN, and then a Masters in Adult Education. Her employment a Grant MacEwan Community College lasted over 34 years. She loved her many positions within the Nursing Program, but she loved teaching the most, and her caring and exuberant personality fit perfectly for this career.

Danin enjoyed life immensely. Her industrious nature meant she was very busy. She was a joyfully spirited individual, and was always young at heart. She was her childrens, then grandchildrens, biggest fan and enjoyed watching them in their activities and sports. She supported her husband, Ron, in his business and hobby ventures. Philanthropy was an important part of Danin and Ron's life and they hosted countless events at their private museum. Danin would often say, "I enjoyed the events as much as the visitors." She prided herself in supporting many charities in Edmonton, and surrounding area, and devoted many hours to volunteering within the community, her nursing alumni, and PEO sisterhood.

Danin will be lovingly remembered and treasured by her family, her brothers and sisters, and numerous nieces, nephews, cousins, aunts, uncles, and friends.

Danin was predeceased by her father Steve, mother Alice, infant brother Ken, and her in-laws John and Rose Bodnar.

Cremation and a small private family service have already taken place. To further honour Danin, a Celebration of Life will be held at her favorite place, the Family Museum, on May 19, 2023. Doors will open at 1pm, with a program beginning at 2pm, and light refreshments to follow.

In lieu of flowers, donations may be made to the Alberta Cancer Foundation, the Stollery Children's Hospital, or Little Warriors.
April 7
Laura Ann Stiles (nee Bernabe), 65, of Barnegat, New Jersey, passed away on April 3, 2023. She was a kind, caring and intelligent woman who had a passion for cooking. Her penne vodka and meatballs were especially enjoyed by her family and friends. She was predeceased by her husband, Mike Stiles; mother, Alice Bernabe (nee Rella); father, Riccardo Bernabe; and Jeff Altmeyer, father of her son.

Retired as a nurse from St. Barnabas Behavioral Health Center in Toms River, Laura spent much of her free time devoted to her lifelong affinity for horses. She loved all animals and, particularly, her two horses (whom she affectionately called her "special boys"), Streaker and Stark. As a skilled rider, Laura won numerous awards and cherished the many special friends she made in her equestrian circle.

Laura is survived by her adoring son, Nick (Jasmine); stepson, Joey (Naysa); stepdaughter, Ashleigh (Devin); sisters, Lisa and Michelle (Waleed); brothers, Michael and Rick (Annie); dear friend, Terri Altmeyer; her loving partner, James Bockin; along with many friends and family.

A celebration of Laura's life will take place on Saturday, April 15, 2023, at 1:00 p.m. at the Barnegat Fire House on Birdsall Street in Barnegat. In lieu of flowers, please consider making a donation in Laura's name to the Rutgers Equine Science Center, Administrative Services Building II, 57 U.S. Highway 1, New Brunswick, NJ 08901-8554, https://esc.rutgers.edu/
March 6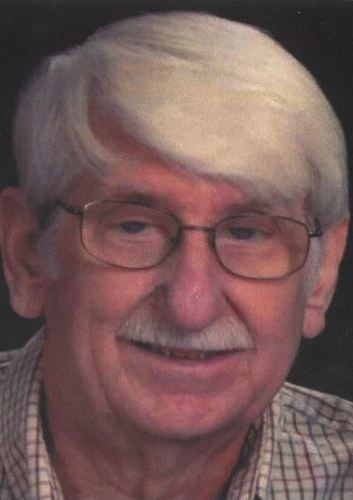 Brendan Thomas Hogan, 84 of Randolph died Saturday, March 4, 2023 after a brief illness, with his family at his side. Brendan was born January 7, 1939 in Brooklyn, NY to Mary Kenny and Edmund Hogan. He was preceded in death by his parents and a brother Peter Edmund Hogan.

Brendan married Patricia Ellen Barry who survives on April 30, 1960 and the couple were lifelong companions for more than 65 years. The couple was blessed with three children; Michael (Susan) of Columbus, OH; Maureen (Walter) Spilsbury of Charlestown, NH; and Holly-Ann (Brian) Hart of Apalachin, NY. He was a proud Poppy to eight grandchildren, a great grandson, and another great grandson on the way. A sister, Jane Dillon of Briarcliff Manor, NY also survives.

Brendan loved collecting and working on his antique cars including a 1930 Franklin and a 1950 Buick, and made car friends throughout the country. He served a term as President of the national H.H. Franklin Club and a term as Vice-President of Antique Automobile Club of America. He was a member of St. Matthew the Apostle Roman Catholic Church in Randolph.

After being honorably discharged from the United States Marine Corps, Brendan spent his career working in information technology for news organizations in New York City including Associated Press, United Press International and retired from NBC Network News as the manager of technical facilities. While with NBC, Brendan travelled throughout the US and the world to design and install technology which brought events such as Olympic Games, papal visits, political conventions and presidential elections to worldwide audiences.
Visitation will be Tuesday, March 7 from 3:00 to 7:00 pm at Tuttle Funeral Home at 272 Route 10, Randolph, 07869. Funeral Mass will be held on Wednesday, March 8 at 10:00 am at St. Matthew the Apostle Roman Catholic Church at 335 Dover Chester Rd., Randolph, 07869.

In lieu of flowers the family would prefer that donations in Brendan's memory be made to St. Jude Children's Research Hospital www.stjude.org or 501 St. Jude Place, Memphis, TN 38105 due to the fact that burial will take place at a later date in New York.
February 4
With full support from the Board of Directors, the Trek Committee has announced that the 2023 Trek will be held at Union College in Schenectady, New York. A great deal of time and patience was required to ensure the membership a comfortable and recognizable Trek experience. The 2023 Trek Committee has gone above and beyond normal expectations. Collectively, we owe Steve Braverman, Rachel McNaughton, Sarah Schopmeier and Lee Schopmeier a debt of gratitude for their tireless efforts over the past 4 months.

With appreciation,
Andrew Sullivan
January 15
Update Regarding the 2023 Trek

New beginnings; with 2023 well underway, I greet you for the first time as President. The coming months are sure to provide new opportunities for our club, as we turn the page on our chapter at Cazenovia College. Under the steadfast leadership of Bob Cornman, I find the club robust with an increasingly active membership and ever-broadening horizons of growth. Top of mind is the relocation of our Annual Franklin Trek. As with any Trek, the Executive Committee is in close communication with the Trek Co-Chairs to provide guidance and support. Since October 2022, they have been working tirelessly on the vetting of prospective host sites. We look forward to the Trek Committee's report at the February Board Meeting; updates will be cross-promoted on the Club website and social media platforms.

Aura Vincit!
Andrew Sullivan
January 2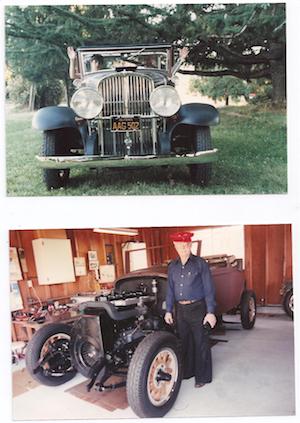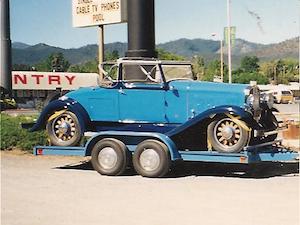 Dear Sir:

I came across your Franklin Car Club web site as a result of viewing an article on a 1931 Franklin in Hemmings. This inspired recollection of the 1931 Franklin convertible coupe my late older half-brother Cecil Shanklin owned from 1951 until his passing in 2008 at the age of 90. I believe that he was a member of your Club.

Just a brief history: Cecil was a career Navy man and retired after 20 years in 1958 as a Chef Petty Officer, diesel technician. In 1951 he was stationed in San Diego and at that time he noticed a 1931 Franklin convertible coupe in the back of an auto wrecking yard. The yard owner said that he could have the car for one dollar if he reorganized the whole yard to get the car out - done deal! He worked for several weekends to get the job done. The car was straight with some surface "patina".

After doing some work on the car to get it running and tires, he drove it from San Diego to Panorama City, California in the Los Angeles area, maybe 170 miles. After it sat in the garage a few months he noticed a small pile of wood dust under the car. The Franklin had termites he had to have it tented and gassed by an exterminator.

Over the years Cecil would do restoration work on the car, especially after moving to Loomis, California in 1962 where he had room to build a detached garage and workshop. He rebuilt the engine and running gear and a local body shop did the body restoration and paint. He last worked on the car about 1993. See attached photos.

The car was sold in about 2010 by his son to a Franklin enthusiast in the East, whose name I do not have, likely a member of your Club.

Hope you find this Franklin trivia interesting.

Don Shanklin
Corona, CA
951-898-9304
January 2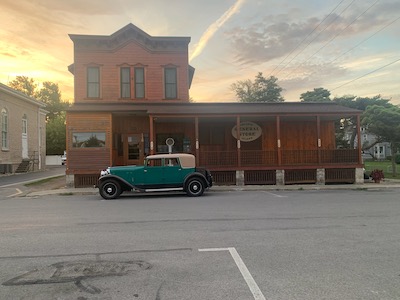 I thought some of the Franklin club members would like to see the family speedster on a little vacation at kellys island on the beautiful Lake Erie island in late summer 2022 . we went over on the kellys island ferry stayed a couple days at the island hotel and drove the franklin around everyday and returned on the ferry. Very enjoyable weekend. Car is pictured at the Old General Store. Gus Alai